Hearing loss/Deafness/Tinnitus
We get increasingly deaf as we get older but in some deafness can be of a very early onset.
Hearing loss is categorised according to the increase in volume above the usual level necessary before the listener can detect it.
Deafness is defined as a degree of impairment such that a person is unable to understand speech even in the presence of amplification.

Tinnitus is the perception of sound within the human ear in the absence of corresponding external sound. Tinnitus can result from a wide range of underlying causes: neurological damage (multiple sclerosis), ear infections, oxidative stress, foreign objects in the ear, nasal allergies that prevent (or induce) fluid drain, or wax build-up. Withdrawal from benzodiazepines may cause tinnitus as well. In-ear earphones, whose sound enters directly into the ear canal without any opportunity to be deflected or absorbed elsewhere, are a common cause of tinnitus when volume is set beyond moderate levels.
2
5
Sun, 21 Oct 2012, 9:43 pm
Zac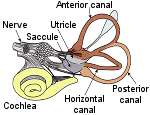 Labyrinthitis
Labyrinthitis is an ailment of the inner ear and a form of unilateral vestibular dysfunction. It derives its name from the labyrinths that house the vestibular system, which senses changes in head position. Labyrinthitis can cause balance disorders, vertigo, hearing loss and tinnitus.
1
1
Sat, 11 Dec 2021, 11:09 pm
themsforum.org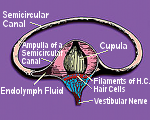 Ménière's disease
Ménière's disease is a disorder of the inner ear that can affect hearing and balance to a varying degree. It is characterised by episodes of vertigo, low pitched tinnitus, and hearing loss. The hearing loss has a fluctuating then permanent nature, meaning that it comes and goes, alternating between ears.
0
0
No posts