What causes Asthma? This article shows the link between an asymmetric jaw and Asthma
Friday, April 5. 2019
Attachment: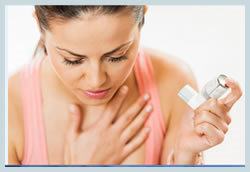 asthma_solution.png [ 72.63 KiB | Viewed 1325 times ]
Some statistics:
5.4 million People in the UK have asthma. This means that 1 in every 11 people has asthma.
Every 10 seconds someone has a life threatening asthma attack.
An estimated 300 million people live with asthma worldwide. It accounts for an estimated one in 250 deaths. Presently, corticosteroids are the mainstay of asthma treatment.
However, an understanding of the disease triggers has been slow and confusing with many contradictory findings. The final state of affairs in a popular medical website says,
"There is currently no cure for asthma, and no single exact cause has been identified."
A typical explanation for asthma is that it is a "complex heterogeneous disease that is often associated with atopic sensitisation in children. It is believed to arise because of interactions in early life between environmental exposures and genetic predisposition. Environmental exposure to inhaled substances and particles that provoke allergic reactions or irritate the airways are the prime etiological triggers."

The rest of the conundrum goes on to say that:
"During the last few decades of the 20th century large increases in childhood asthma prevalence were described in the United Kingdom and other developed countries. Genetic shift cannot explain this rapid change in spite of an extensive search for modifiable environmental factors, which may be causally related to the development of asthma in children. Although a large number of biologically plausible factors have been suggested, most have only modest effects on disease risk."
While not giving any less importance to potentiating effects of environmental pollution the missing factors which can explain the large increases in asthma cases can, in my opinion, be explained by the phenomenal increases in:
1)
The consumption of processed foods and unhealthy takeaway foods
seriously affecting jaw development in the last few decades of the 20th Century. Please refer to the work of Dr Weston Price.
2)
The extraction orthodontics in the last few decades
, (which have left hundreds of thousands crippled and aesthetically mauled), of the 20th century, resulting in a worsening of the poor jaw development initially caused by processed foods.
3)
The extraction of wisdom teeth,
is also contributing to the incidence of breathing problems including asthma and lifelong illness with many other symptoms.
The resolution of asthma, brought about by corrective non-extraction, non-constrictive orthodontics in most patients is a testament that poor jaw development is THE MAIN contributory factor in the incidence of Asthma.
Only slight asymmetries of the jaws can cause serious health issues - not just Asthma.
Here are some testimonials from my patients who have been able to come off their inhalers:
1.) Case Study Issue 89: Holistic Dentistry for Allergies, Skin Problems and Snoring
by Dr Ann Harris
Listed in case studies, originally published in Positive Health Magazine issue 89 - June 2003

Background:
This is a remarkable case history, which relates to our 14-year-old daughter Claire. When faced with the prospect of having teeth removed because of overcrowding she was determined that she did not want any extractions. My search for a holistic dentist had begun. I initially contacted the British Dental Association but their response was less than helpful. Thankfully, I subscribed to Positive Health and saw an advert for such a dentist practising in London.
Presenting Symptoms:
For a number of years Claire had suffered from rhinitis (runny nose), bouts of sneezing, coughing and wheezy-type symptoms. It was quite clear to us that she was sensitive to artificial food additives as well as being seriously allergic to peanuts. These traits were also present in both my husband and me, so it was easy to blame the 'genetics' for her condition. A variety of complementary therapies was tried all without success. These symptoms were resisting all forms of treatment. At the age of 12-years Claire's skin also became inflamed with acne which turned into scarring, damaged skin often resisted complete healing for months. She also suffered from chronic lethargy. This girl was just not functioning well in all aspects. Again, despite diet and lifestyle changes Claire's health did not significantly improve.

Consultation:
At the initial consultation with the holistic dental surgeon, it was clear that her spine was misaligned at the cervical and sacral regions. This had also been confirmed by previous chiropractic and osteopathic assessments. There was also restricted breathing into her sinuses, as her palate was displaced upwards causing obstruction and thereby resulting in mouth breathing. Claire had been snoring at night for many years whilst sleeping with her mouth open. It was explained that her jaw misalignment exacerbated her symptoms as the jaw lacked the correct stimulus to grow normally. She was also not breathing fully into her lower abdomen. Her face was pale with puffy cheeks suggesting poor immune function and her face lacked correct proportion and symmetry.
Using kinesiology with her existing jaw alignment Claire tested weak to a general muscle test. When she purposefully moved her jaws into better alignment, she tested strong correspondingly. It was clear that she had enough room in her jaws to accommodate all her existing teeth. There would be no need for any tooth extractions, and that treatment would be by the use of braces and appliances only.
At the beginning of treatment, Claire was intermittently taking oral antihistamines and a salbutamol inhaler (blue puffer) to control her symptoms.
Treatment: Claire's course of treatment started with her being shown corrective breathing and swallowing exercises. She was fitted with a removable adjustable brace, which was designed to increase the space available in her upper jaw. As the treatment continued into the first few weeks guided by kinesiology we noted distinct changes in the depth of her breathing. At about twelve weeks into the treatment programme, Claire dramatically and completely lost her skin pallor. My astonished reaction was to exclaim "Claire, you're pink!".
Treatment continued along these lines for several months using fixed and removable braces on the teeth of her upper and lower jaws. Claire pursed the jaw alignment exercises that she had been given. During this period she also used a removable head appliance mainly at night. It was during this time that it became clear to us that Claire had become 'silent' at night, the mouth breathing had disappeared and she had stopped snoring.
Claire is now in her fifteenth month of treatment and her skin is looking more robust and vital. She has far more vitality overall as well as physical energy. The acne scars which had been a source of concern for her are now beginning to heal, and the acne itself has disappeared. Also, not surprisingly her teeth are very nearly perfectly straight. It is also remarkable to note that Claire has actually enjoyed having braces fitted, she claims that they make her feel 'stronger'.

Conclusion:
This course of orthodontic treatment has been the only form of intervention used to improve our daughter's health over the past fifteen months. Compared to her contemporaries undergoing reductionist forms of orthodontic treatment, this approach has been very nearly pain-free without the need for strong analgesic medication and of relatively short duration. She has suffered virtually no head, neck or backache during the course of this treatment. All her presenting symptoms have effectively disappeared. She no longer requires any form of medication.
In fact, many people have commented to me that Claire is a completely different girl from her former self of just over a year ago. I totally agree.
Acknowledgement: I would like to give my heartfelt thanks to Mr M Amir the holistic dentist referred to in this case study for his groundbreaking and inspirational work in this area.
Dr Ann Harris has anticancer research and medical information background. She has worked as a pharmacist for the Department of Health on various projects including adverse reactions to drugs. She can be contacted on Tel: 01992 503784;
ann.harris@ic24.net
2.)
Relief from Asthma and Hayfever
I refer to the recent article (Issue 87, pp 31-33, the Positive Health Magazine) by Mr. M. Amir on the risks of dental extraction, and would like to offer my personal testimony as to the effectiveness of his treatment methods from the field of Cranio-Mandibular Symmetry, alluded to in the article, and their benefits to health.
I became a patient of Mr. Amir about 4 years ago on the recommendation of a friend. I had been suffering for many years, and increasingly so, with sporadic bouts of asthma (triggered by weather conditions, house dust, atmospheric pollution, hay fever), and was becoming more and more dependent on a Salbutamol inhaler to ease the acute symptoms of asthma. I was also aware that there could be undesirable side effects on long-term use of this medication and was in search of a cure.
Following a thorough examination, I was fitted with my first brace to correct for a significant misalignment of teeth between the upper and lower jaw. I also received instruction in simple procedures (a breathing exercise, for example), to assist in this process. It was clear to Mr Amir at the outset that my symptoms of asthma would respond well to his treatment and indeed, within a few months I was having fewer and less severe attacks, to the point right now when I cannot remember the last time I had one or had to use the inhaler - it is certainly well over a year ago. Symptoms of hay fever have likewise reduced (in the rye grass pollen season, June to mid-July). Last year I was hardly affected at all.
His success in the various other areas of health I can well believe, judging from the experiences of some of Mr Amir's other patients I have spoken to - relief from irritable bowel syndrome, depression, chronic fatigue syndrome, ME for example - and I am convinced that Cranio-Mandibular and Skeletal Symmetry is an important and highly effective methodology for health care and deserves a much wider utilisation with the dental profession. Mr. Amir is a pioneer in this regard and, I should add, a dentist to consummate skill. His work should be taken seriously by all dental and medical professionals. I do hope it is - for the sake of all of those whose health and well being are at stake.
G. B, BSc, PhD, April 2003
3.)
Recovery from Asthma and Eczema
Our son Ethan (7 years old) suffered severely from eczema from the age of three months. By the age of three, his allergy also developed into asthma. He needed to be always with the inhaler and was often admitted to hospital A&E for his asthma attacks. Winter was a particularly bad season for him and Ethan was between a hospital and home because of recurring chest infections. Ethan was not only asthmatic but also very thin and slow to grow.
We did everything that we could think of and travelled everywhere seeking any possible treatments to cure him. Finally, we met Dr. Amir in the summer of 2013.
Having the treatment over the summer, the first noticeable change occurred in autumn when Ethan's feet and hands became warmer, which used to become icy cold very quickly when he was exposed to cold air. Then his class teacher was surprised at how he became animated in the class and became an active learner.
Ethan's asthma has kept improving along with the help of the family's careful nutritional input. The latest surprise for us was that Ethan didn't need a single puff of his Salbutamol inhaler in April when it has always been a challenging month for him as a change of a season and at a peek of hay fever.
Now Ethan is asthma and eczema free and growing into a lively boy. These all happened within a year under the treatment with Dr Amir, and the progress was almost miraculous for us given a fact that Ethan was once informed by an allergy specialized paediatrician that he would need an inhaler and steroid for his entire life. We are grateful ever for Dr Amir.
S. Courau
May 2014
Strangely, as far as allergies are concerned, I think there is a different element at play that we fail to understand. I had a patient years ago extremely allergic to cats and would come out with an asthmatic attack if she even went into a room where a cat had been. Within days of starting treatment, she could play with cats!
The same goes for Multiple Chemical Sensitivities where one patient recovered through Jaw symmetry treatment.
Her medical doctor writes:
"Such a shared-care patient is Mrs Claire W an entrepreneurial and dynamic business women in her forties who came to see me, initially for treatment of her unexplained Myasthenia reactions which show in a sudden loss of muscle tone and sudden collapse onto the floor in public places.
From the knowledge that these reactions were linked to exposure to drugs, environmental toxins, chemicals, even perfume odours she had no other option than to avoid all public spaces, transport systems, supermarkets. For years she battled with this detrimental condition known as Multiple Chemical Hyper-Sensitivity MChS). The isolation and bleakness in her life brought her close to suicide and she allegedly made contact with Dignitas in Switzerland at this stage.
My own assessment and treatment approach gave her hope and stabilised her situation, the details of which would prove to be too much for the purpose of this letter. When at a certain point she plateaued and it became obvious that other structural factors such as dental, TMJ and cranial imbalances would need to be addressed to make further progress I decided to contact Dr Amir in 2009 when I first came across his work.
Mr Amir accepted her as a patient for an initial assessment but admitted that he had never treated anyone in such a fragile state and that it may take time for a care plan to evolve in a safe and manageable way. He realised she had a hidden but serious jaw and orthodontic problem and suggested a course of treatment.
When the first fitting of the prescribed appliance took place the patient apparently collapsed when reacting to the substances of the device despite precautions of using hypoallergenic materials. Alternative materials to which she didn't react were eventually found under some difficulties. The subsequent recovery process was steady and continuous however not a linear process and on several occasions my own medical interventions were required to steady her situation.
The uniqueness of the case which began from an almost hopeless starting position attracted the attention of a national newspaper. In an article written by editor Bella Freud, a society journalist the patient explained that the unique path she chose saved her life and that other patients with complex illnesses, allergies or MChS could perhaps be helped in a similar way by accepting and understanding the influence that dentistry has on patients' immune systems. Meanwhile I continued monitoring this patient and she has not relapsed since and has enjoyed a very full life for many years in the meantime."
This is a graph of 104 patients who presented with Jaw problems AND Asthma We treat the jaw not asthma or any other symptoms. Patients usually recover completely from their asthmatic symptoms!
Attachment: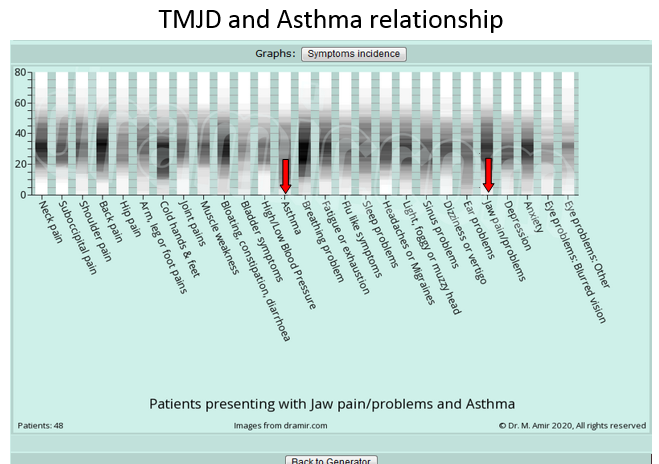 Graph Jaw asthma.PNG [ 190.2 KiB | Viewed 1340 times ]
The resolution of Asthma, brought about by corrective non-extraction, non-constrictive orthodontics, the resolution of symptoms of jaw problems and the correction of bodily asymmetries is a testament that poor jaw development is THE MAIN contributory factor in the incidence of Asthma.
Such corrective treatment is an anathema to the medical profession so their appointed shills and cronies will use every possible tactic to discredit or prevent this knowledge from getting out to the general public.
One does not have to suffer from TMD to get Asthma. TMD comes about in adults, not children!
Only slight asymmetries of the jaws can cause serious health issues - not just Asthma.
© M. Amir 2022. All rights reserved
PS: Taking a stand against the existing paradigm of dental and medical care has turned out to be very costly. My website has highlighted practices of those who knowingly or unknowingly perpetuate illness. This is obviously not acceptable to the power structure in control of our health. To continue to produce evidentiary articles on my website and this forum - which have enlightened thousands of dentists and patients all around the world, to keep my staff employed and my offices viable, we request a little help.
Please contribute through a window that comes up at
Mr Amir
. (Please note I am in the process of revising that website.)
Please remember there are at least 48 illnesses where millions of patients can be helped through dental interventions.
The improvement or benefits identified in the testimonials and articles on this site are based on individual experiences which are dependent upon the patient's unique health condition, jaw condition, occlusal position, medical history, and other individualised factors, and should not be considered representative of all treatment outcomes.