I discovered a treatment for the symptoms of these disease labels more than 30 years ago with some 95% of patients who have either completely recovered or are very substantially better. There is no mystery to these conditions. They are simply problems of an asymmetric jaw and often coupled with other consequential skeletal asymmetries.
This relationship to illness is easily diagnosed and does not need any complex exams or tests which often cost patients thousands of dollars when they follow the conventional route. The abatement of a number of symptoms starts almost immediately for most patients after embarking upon treatment. Please read the numerous testimonials on this website.
Conducting a further preliminary analysis amongst our patients this graph merges the records of our patients who presented with 'Chronic fatigue Syndrome' as their main problem. The patients always have other accompanying symptoms and our questionnaire makes a note of all these so that they can be analysed graphically:
Please click on the graph to enlarge.
Attachment: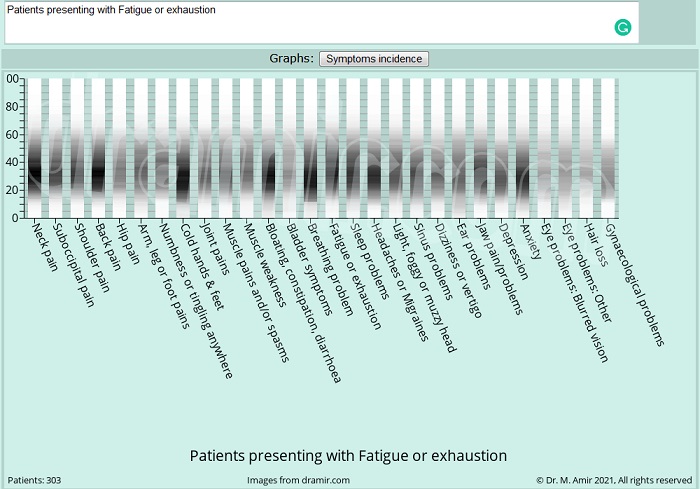 Graph_Chronic_Fatigue.jpg [ 101.71 KiB | Viewed 1593 times ]
In the second graph we have similarly merged our patient's records who presented with mainly a 'Jaw problem':
Please click on the graph to enlarge.
Attachment: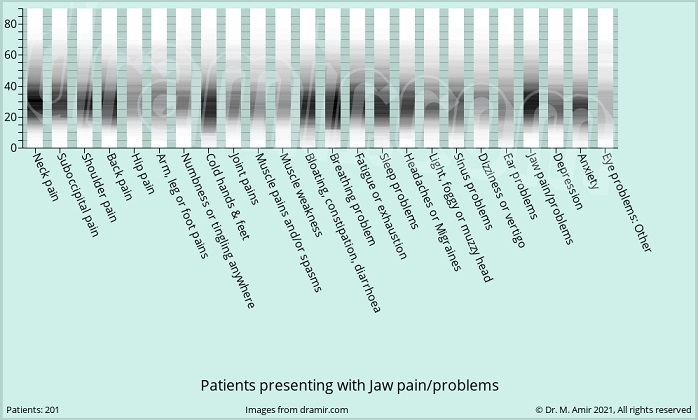 Jawpain201graph.jpg [ 83.21 KiB | Viewed 1593 times ]

The main conclusion that can be drawn from these graphs is that patients presenting with jaw problems have almost identical symptoms to those presenting with Chronic Fatigue Syndrome.
Patients never get evaluated by a TMJ specialist. The symptoms are usually remote from the mouth leading patients to seek help from their medical doctors.
The word 'cure' is unacceptable in medical parlance because they can never cure such patients. Anyone claiming to 'cure' a patient is treated with utter disdain and called a 'snake oil salesman' by the medical profession.
A mundane jaw problem becomes a hugely profitable cash cow - and that is even before the drugs come into the equation.
Many patients simply waste away with no cure in sight.
We need to attend to the Cranio-dental and spinal asymmetries to heal the patients.
An article has just appeared in the 'New Scientist' magazine with this alarming title:

"Antibody wipeout found to relieve chronic fatigue syndrome"
The article quotes a study making stupendous claims, which I fail to understand having successfully treated very many ME/CFS patients, how killing someones immune system can possibly make them better.
In short, the study basically says that your doctors are still very confused about this condition and think that you should use a drug to kill your immune system to help you along your way (perhaps to oblivion).
It is very understandable that the medical profession is thoroughly confused. 'Confusion' has this uncanny ability to be very profitable. One can put this 'confusion' into very good use by putting patients through thousands of pounds worth of useless tests making huge profits for the medical-hospital-industrial complex.
It is a foregone conclusion that these tests will not produce any answers.
Patients are also pre-warned that "because we do not really know what is causing your 'mysterious illness' the drug might not work" - and people WILL ACTUALLY pay for this uncertain treatment AND praise the 'honesty' of the physician!
I received emails from a number of recovering patients most concerned about this outrageous proposal to give patients this immune ablating drug:
Jean warns:
"This drug has been linked to PML !
This monoclonal antibody medication is foisted onto unsuspecting 'MS' patients too..... This is a cancer medication, not for people with healthy, properly functioning immune systems!
Progressive multifocal leukoencephalopathy (PML) is a rare and usually fatal viral disease characterized by progressive damage (-pathy) or inflammation of the white matter (leuko-) of the brain (-encephalo-) at multiple locations (multifocal)

Here is what Amy had to say:
"This makes me very angry and concerned about the safety of anyone vulnerable and desperately ill enough to be a guinea pig for this very serious and dangerous sounding drug!! As is obvious in the article it simply masks the immune system dysfunction without addressing the fundamental root cause which cannot be cured with drugs and after stopping it the participants simply become sick again.
Apparently, they are going to recruit participants via the NHS referred CFS services at St. Heliers and Epsom. The former is where I previously saw the immunologist Dr X……...… who wasn't able to help my condition whatsoever and recommended pacing for my fatigue and Echinacea for my weak immune system. A "charity" is involved in a separate trial at UCLH. God help us all."

In September 2006 the British Medical Journal printed the following comment from me:
"Temporo Mandibular Joint dysfunction as a Differential Diagnosis in ME/CFS patients
My experience of treating many patients with CFS is that this aspect [Jaw dysfunction] must always be excluded in the differential diagnosis as it gives similar symptomatology as many other causal relationships.
Asking the patient if they have any jaw pain is not sufficient.
Palpation of the Lateral Pterygoid muscle by running a gloved finger on the buccal aspect of the upper molar teeth backwards and upwards will often produce acute pain in most patients. The pain might be worse on one side than the other. Evidence of jaw clicking, limited mouth opening (Normal 50mm), deviation of the lower jaw on slowly opening the mouth, tooth grinding and jaw clenching while asleep should be inquired into. A history of orthodontic or wisdom tooth extractions is also indicative of TMJ dysfunction.
Dental splints over the teeth provide limited and symptomatic relief and should not be perceived as "TMJ treatment under control" as the proper dental management of such patients is far more complex. I shall be grateful if this can be brought to the attention of those in medicine that the patients so depend on. It might even give some an alternative to "psychosocial" relationships."
It is imperative that if you have any of these illness labels or you suffer from multiple symptoms you seek cranio dental and skeletal symmetry treatment.
©2021 Dr M. Amir. All rights reserved.
PS:

Taking a stand against the existing paradigm of dental and medical care has turned out to be very costly.

My website has highlighted practices of those who knowingly or unknowingly perpetuate illness. This is obviously not acceptable to the power structure in control of our health. To continue to produce evidentiary articles on my website and this forum - which have enlightened thousands of dentists and patients all around the world, to keep my staff employed and my offices viable, we request a little help.
Please donate using the link on the window that comes up at
dramir.com
. (Please note I am in the process of revising that website.)
Please remember there are at least 48 illnesses where millions of patients can be helped through dental interventions.
The improvement or benefits identified in the testimonials and articles on this site are based on individual experiences which are dependent upon the patient's unique health condition, jaw condition, occlusal position, medical history, and other individualised factors, and should not be considered representative of all treatment outcomes.